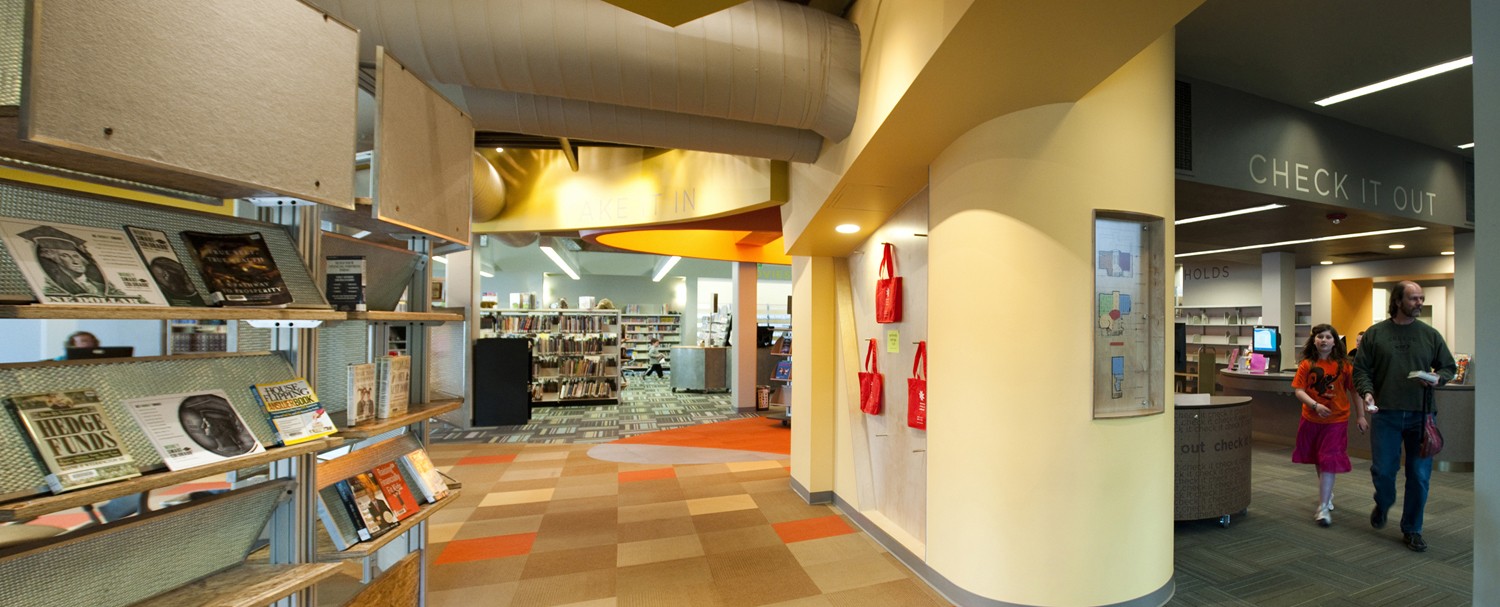 Filter content by studio:
Studiotrope has been working with Denver Public Library since 2008 when it was commissioned to create a program document for its "Contemporary Service Style."

The program document established design guidelines for DPL branch libraries tailored to current and future trends in contemporary service. It also went beyond, identifying guiding principles and a building DNA for a new theoretical type of library. 

in 2009, studiotrope was commissioned to renovate the Ross-Cherry Creek Branch and then the Bear Valley Branch. And in 2010 we won the commission for the new West Denver branch, later named the Rodolfo "Corky" Gonzales Branch Library.

While each branch was designed around its particular voice, the Contemporary Service Style Plan was the foundation we started with and a guiding force throughout. It allowed us to kickoff each project with established design guidelines so that the bulk of our design efforts could be spent revealing the unique qualities of each branch.

Common elements found through each branch are custom Supple products, furnishings, color pallets, signage and wayfinding. While our work for DPL has been one of hyper customization – it was accomplished by following carefully designed guidelines. It is the tool that allowed each branch to find its voice, while being instantly recognizable as a Contemporary Service Style library within the 26 branch system that is Denver Public Library.

For the Ross-Cherry Creek Branch, a selective re-configuration resulted in a rebirth of the interior spatial relationships to create ultra-flexible open spaces.
For Bear Valley, its Native American history created a story that translated into an interior finish narrative of abstracted natural forms and patterns.
And for the new Rodolfo "Corky" Gonzales Branch Library, its culturally diverse population, large immigrant community and urban presence gave way to the concept of Library as Greenhouse — an incubator for growth.  It embraced its urban setting by establishing highly active zones along the historic Colfax Avenue thoroughfare, while simultaneously creating private and secure gathering areas for those who explore deeper into the branch. And in the end it set a new standard in sustainability with the "Greenhouse" concept. Key to this concept is a three-story plenum spine that behaves like a light, water, and air filter for the building and its occupants. The spine, in combination with a raised floor system, safeguards water, facilitates a passive displacement ventilation system, invites and filters natural daylight into the library, and showcases the building's automated systems. Gonzales was named Library of the Year in 2015.
Filter content by studio: