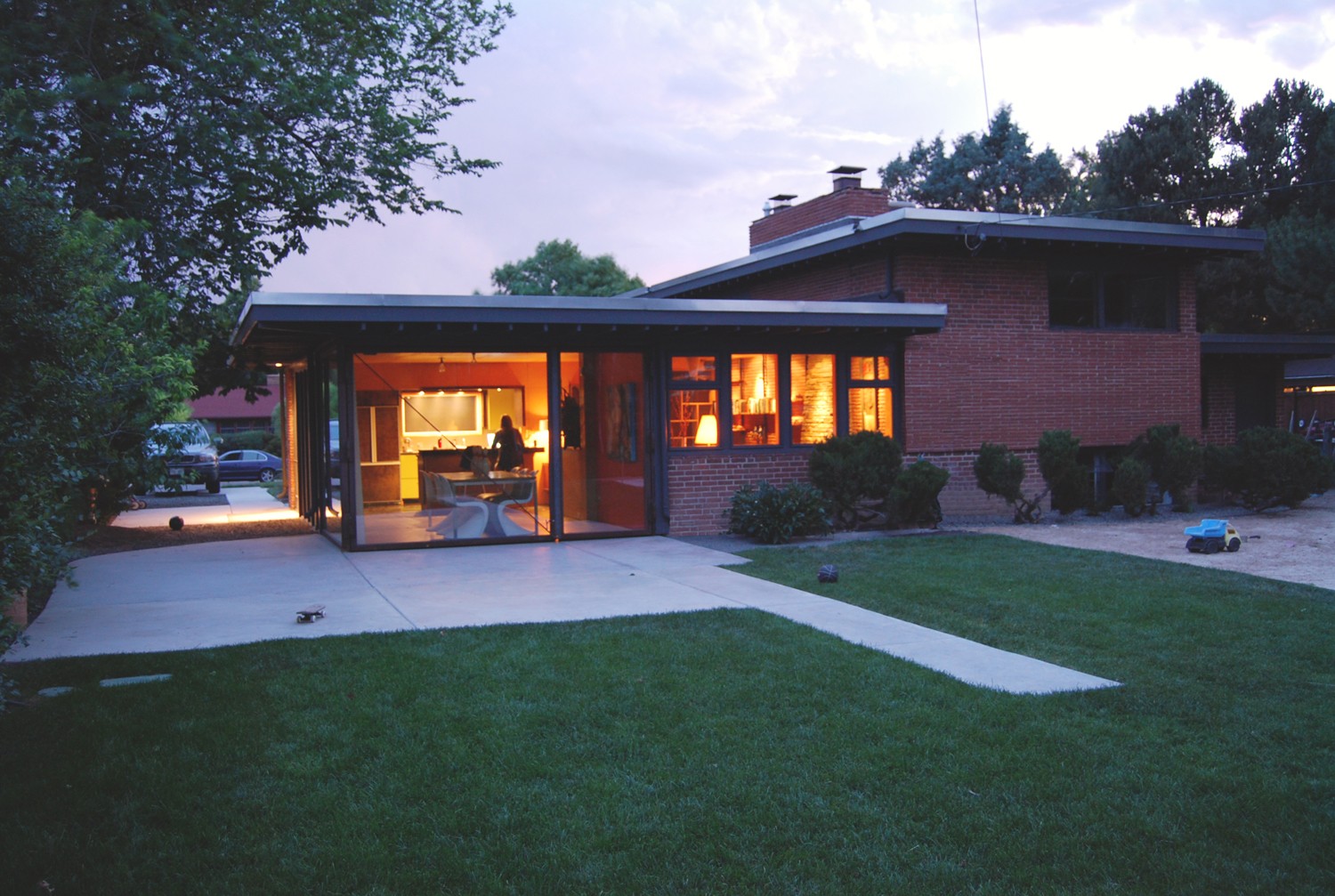 Filter content by studio:
Built in 1949, this mid-century modern home on Forest is one of more than a dozen other homes designed by Eugene Sternberg in collaboration with Edward Hawkins. That same year, Hawkins purchased the land to develop a subdivision that would later become realized as Arapahoe Acres. It is there that Sternberg and Hawkins' influence of/on modern architecture is overwhelmingly apparent. In 2007 this home was found in disrepair. The renovation is sensitive to the simplicity of the floor plan, the materials, and Sternberg's innovative attempt at passive/solar construction. The addition emphasizes certain historic gestures (façade banding, floor/ceiling glass, brise soleil) while establishing a sense of newness.

This project was done in collaboration with Denver Artist and Design-Builder Bill McDonald, owner of McDonald Reconstruction. His dedication to maintaining the original character of the houses he reconstructs has been influential in refurbishing several Houses Hawkins developed in Park Hill in the middle of the 20th century.

More on Eugene Sternberg, via the 5280 Magazine article "8 Historic Architects Every Colorado Design-Lover Should Know and Celebrate," published August 2022:

Sternberg was a modernist and contemporary post-war architect who created beautiful structures with livability and affordability in mind. His niche was public buildings, and he designed many hospitals, public schools, nursing homes, and places of worship around the Rocky Mountain West. He is probably best known in Denver as the lead architect of the famed mid-century subdivision Arapahoe Acres. (He quit that job in protest because he thought the developer was charging too much for the homes—around $13,000 each.)

Born in what is now the Czech Republic, Sternberg was studying architecture in England when World War II broke out (many of his relatives died in the Holocaust). While at Cambridge, he worked designing replacements for bombed-out housing. After the war, a job at Cornell University brought Sternberg and his wife to America, and a professorship at the short-lived University of Denver School of Architecture brought the architect to Denver. In his successful private practice, Sternberg cultivated an "ethos of social and environmental justice," says Patrick Eidman of History Colorado.
BEFORE
AFTER
The interior design for this project was done in collaboration with Terri Peters of Peters Windley Design. Her amazing eye for color and relentless search for materials were instrumental to the success of its transformation, they not only fit the budget but also the strong aesthetic of the house.
Filter content by studio: