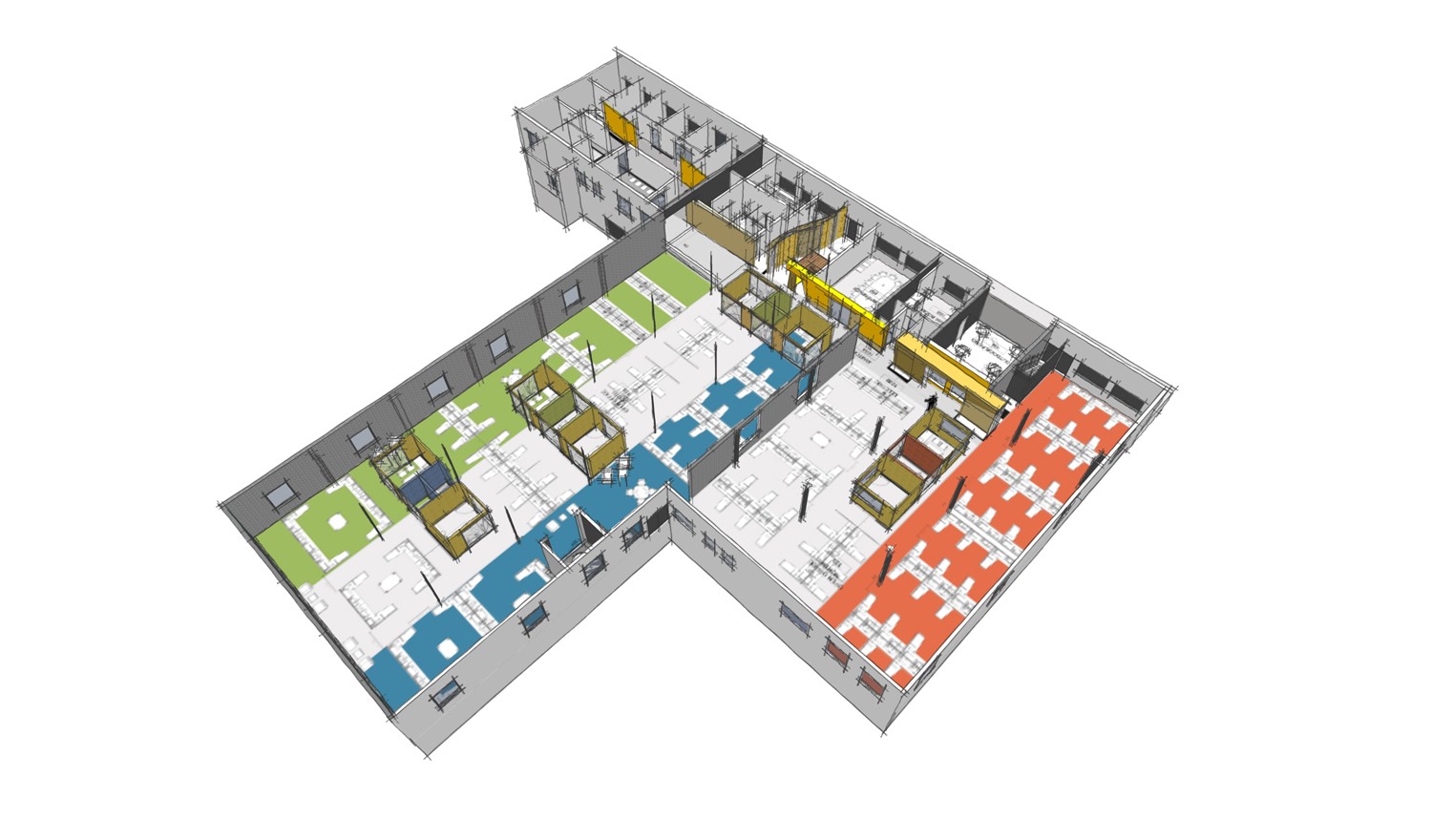 Filter content by studio:
Our move management team members have experience orchestrating the work and management of movers, furniture installers, electricians, cable installers, as well as data and communications specialists. Depending on the scale of the project, on move day we provide 2-3 team members: 1 at "origin" location, 1 at the "final" location and the 3rd to help smooth communications and assist at either location.
Strategic Move Planning
We can work with a plan you already have, or inventory existing furniture and provide full space-planning and layout design in Revit. We meet you at your need!

Pre-Move Prep and Coordination
We work with your team to understand the complexity of your project and plan ahead using color-coded / keyed plans to help everyone stay on the same page.

Move Day Assistance
We are at ground zero, overseeing and troubleshooting during the transport of assets so you can rest easy.

Post-Move Follow Up
We summarize any work unable to be completed and outline next steps with the team, so you don't have any surprises.
Reviewing scope of move with Client to establish: # of occupants to relocate from "origin" location and to "final" location.

Working with Client to identify challenges and goals of each "origin" space and the "final" locations.

Laying out furniture (existing or new) in Revit for the "final" locations. Including temp/flex locations if needed.

Coaching client on how to set up team leaders for each department to ensure a single point of contact for each department, and coach those contacts on their responsibilities for the move scope.

Gathering and distributing necessary contacts for: move planning, move day happenings and post-move adjustments.

Coordinating with Client's internal IT, Access Control, Security, waste removal, cleaning crew, furniture installers, and movers to ensure spaces are ready for occupants and the evacuated spaces are cleaned to the agreed upon condition.

Assisting with tagging of existing product to be moved and be available for on-site questions/concerns throughout the process.

Working with Clients to develop overall move sequencing plans and spreadsheets.

Working with Clients to outline a detailed schedule to accommodate all move groups, and building access time frames, including temp locations and loading dock access.

Working with Clients to develop a responsibility matrix to be sure all bases are covered and clear to each party involved.
Assisting in new space evaluation if the Client has not yet decided on a move location. This includes reviewing potential occupant layouts, reviewing infrastructure needs and providing an evaluation of move day needs such as delivery locations, access routes, parking, security, waste removal, and recycling, etc.

Providing a move packet for occupants. This typically includes moving instructions on how to pack and expectations for move day.

Providing additional relocation graphics to direct visitors to the new location if the move scope includes departments that serve the public.

Generating post move punch list and follow up with mover as required.

Assisting with a variety of pre and post-move evaluations such as a "survey monkey" type of email survey to get feedback from occupants on the process.
Filter content by studio: