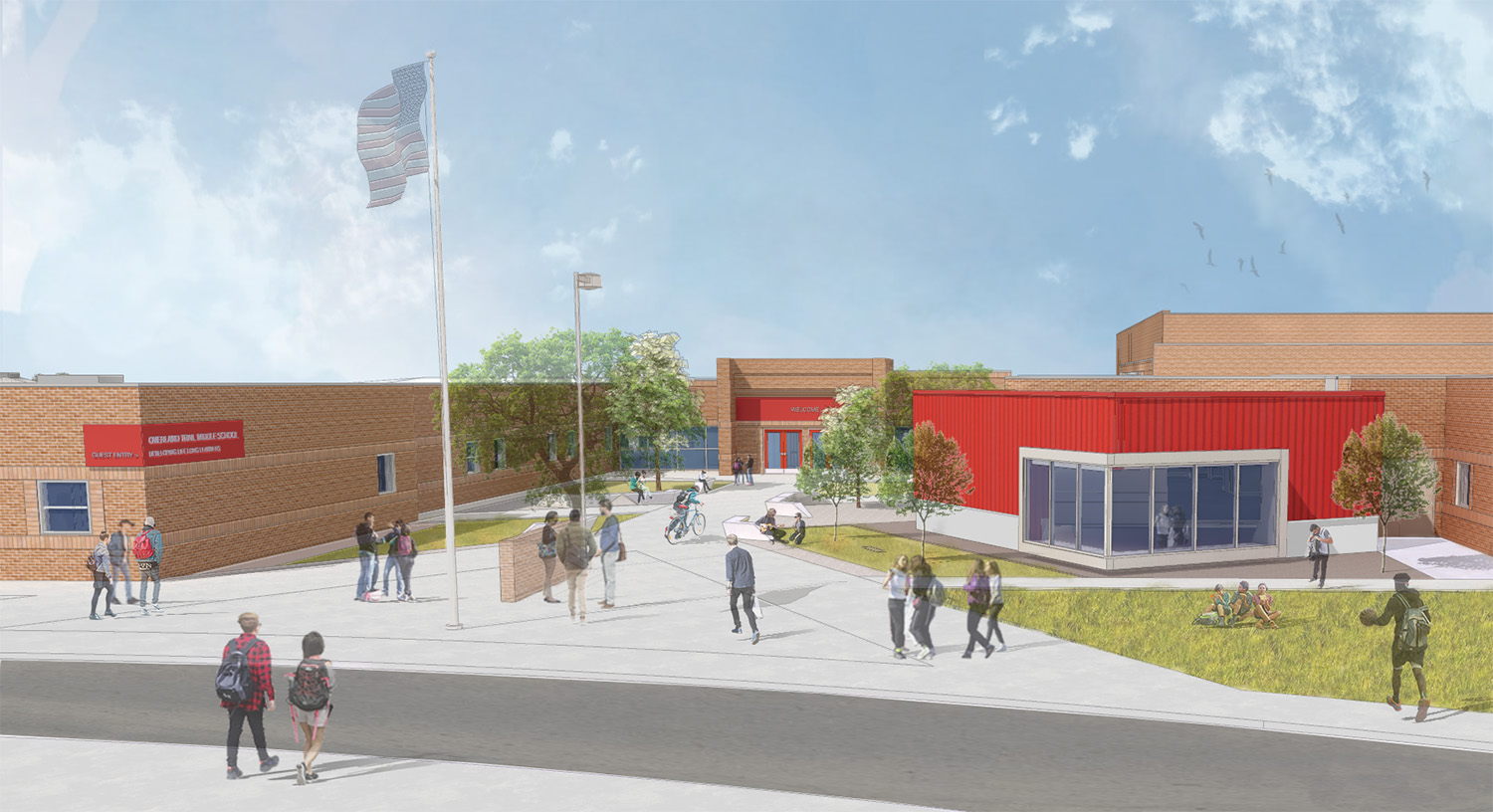 Filter content by studio:
Studiotrope teamed with Alan Ford Architects to renovate and expand School District 27J's two-school K-8 campus where Northeast Elementary & Overland Trail Middle School are located in Brighton, CO. The existing 1968/1984 building infrastructure had not kept pace with the innovative teaching methodologies practiced on this campus; 27J required a collaborative and transparent design process involving students, teachers, facilities maintenance experts and community members. Studiotrope led the team to balance budget demands of the "must-have" security and infrastructure enhancements with the "nice-to-have" building refresh. Security-related scope focused on entry sequences and were implemented to prioritize safety while enhancing their welcoming experience.

NORTHEAST ELEMENTARY SCHOOL
Northeast Elementary School aspired to showcase their recently adopted International Baccalaureate Program. The elementary school had outdated finishes and furnishings, lacked collaborative learning environments that would support the school curriculum, needed improved classroom environments, and had less-than-adequate safety and security measures. After several workshops with a Design Advisory Group, a clear set of project priorities was agreed upon, including a learning commons with numerous flexible spaces, collaborative spaces, unique pods, a secure entry, improved wayfinding and overall functionality relative to I.B. learning. Students once again have a sense of pride for their school and feel inspired to express their learning. A portal concept was derived that speaks to other parts of the world and other points of view. The "heart of the school" is connected to all other learning environments via the learning portals.

OVERLAND TRAIL MIDDLE SCHOOL
The Overland Trail Middle School did not require additional classrooms, but was in dire need of updating to put the school on par with the new schools recently added to School District 27J. The school lacked a welcoming and inspirational entry, fell short in a variety of learning environments, and lacked adequate means for showcasing student work. After meeting with the DAG and generating consensus around project priorities, it became clear a reinvention of the core of the building would yield the greatest value given the tight budget. It was important to the curriculum that students could show a tangible benefit of applying the knowledge they have gained in their classrooms to their broader community. A catalyst for this outcome was the proposed "Learning Marketplace" at the core of the school and a new maker space addition.
Filter content by studio: