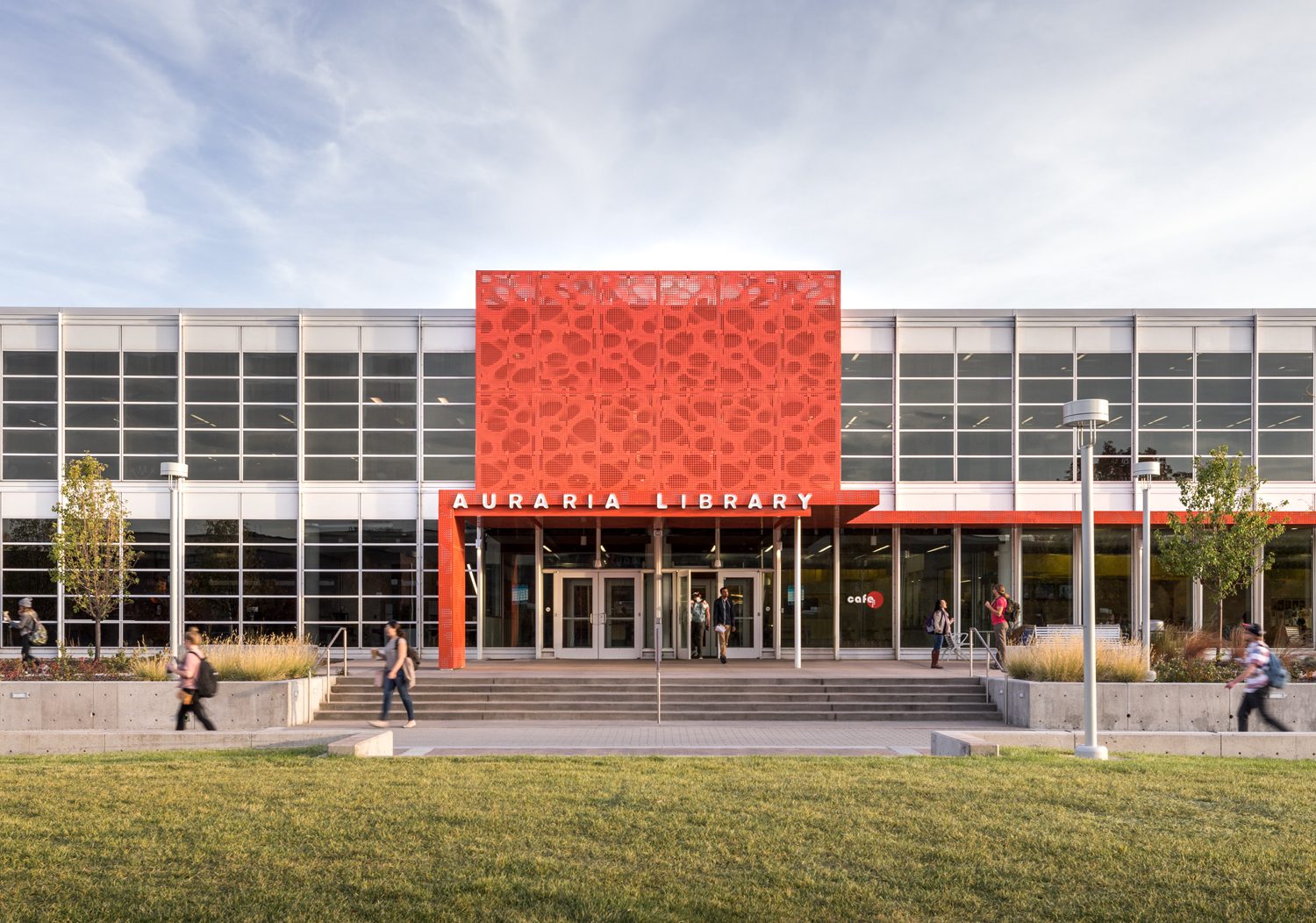 Filter content by studio:
Click here for a video demonstrating the reinvention of the Auraria Library.

LEED Gold

The award-winning Auraria Library building, designed by renowned architect Helmut Jahn, is an enduring icon. It is widely appreciated for its mature and sophisticated aesthetic and the seriousness of its stature. Since its inception in 1974, however, the academic library paradigm has changed dramatically. The classic modernist expression of the building has not evolved alongside the recent changes in the library world, and can feel almost mechanical at times, lacking a humanist aesthetic desired by today's library patron. The Auraria Library yearns to be awoken, to exhale.

The Auraria Library aspires to be one of the top five reasons to attend one of the institutions on the Auraria Campus. To achieve this the building must first be approachable and welcoming. Next, and just as important, the building occupants must make an emotional connection with the interior environment if they are to choose to return.

The Library must be...

...a place to explore, learn, and create knowledge while being empowered, stimulated, and surprised

...a place to remember

...a place to feel smart

...a place to connect

...a place to see and be seen

In 2019, in partnership with Namasté Solar, the Auraria Sustainable Campus Program installed the largest single rooftop solar panel array in Denver. This 779kW array decreases the reliance on fossil fuels, increases water conservation efforts, and offsets over two-thirds of library electricity usage. Click here to learn more.
Canopy aluminum panel fun facts:
100 panels
5' x 10' each
Approx. 2,000 water jet cut holes in each
Panel weight before and after holes cut: 296 lb to 178 lb
Total weight of all hole blanks recycled: 11,800 lb (5.9 tons!)
Equivalent recycled aluminum in cans: 406,896
If you laid these cans on Colfax, they would reach over 31 miles – from Golden to E-470!

Recycling this aluminum reduced the project's carbon footprint by the equivalent of 54 tons of CO2.
ALex is a typical Auraria Library explorer. ALex was conceptualized to illustrate how an iconic EXPLORER would navigate and use the library. The idea was developed based on conversations about how the library would like to communicate and interact with students in a more conversational/fun way. ALex and the icons are still in the conceptual stage of development. The next step will be to introduce the icons to users to get feedback on universality and recognition. This process will also open a dialogue with users and invite them into the reinvisioning process.
This map iconically represents spaces where students can gather, learn, research and interact. The next step in developing the icon concept will be a series of design meetings to establish:

- the "tone" of the icons — playful vs serious, sophisticated vs laid back,

- their presence in the environ ment — small and gestural vs overt and literal, or somewhere in between

- their manifestation in the environ ment — applied vinyl, plaques, signage, stencils.

Once we have established the parameters, we will start to develop the icons into a pattern of language that will be recognizable throughout the library. This pattern, once understood, will allow users to navigate the library in an exploratory way and create opportunities for discovery.

Paramount to the success of this concept is universality and user recognition. As part of the development process we intend to do a "discovery launch" to introduce the icon concept to user s as a free-form public comment discussion. This process will not only open a dialogue with users and invite them into the reinvisioning process, but also ensure that the final icons reach their full potential.
Filter content by studio: