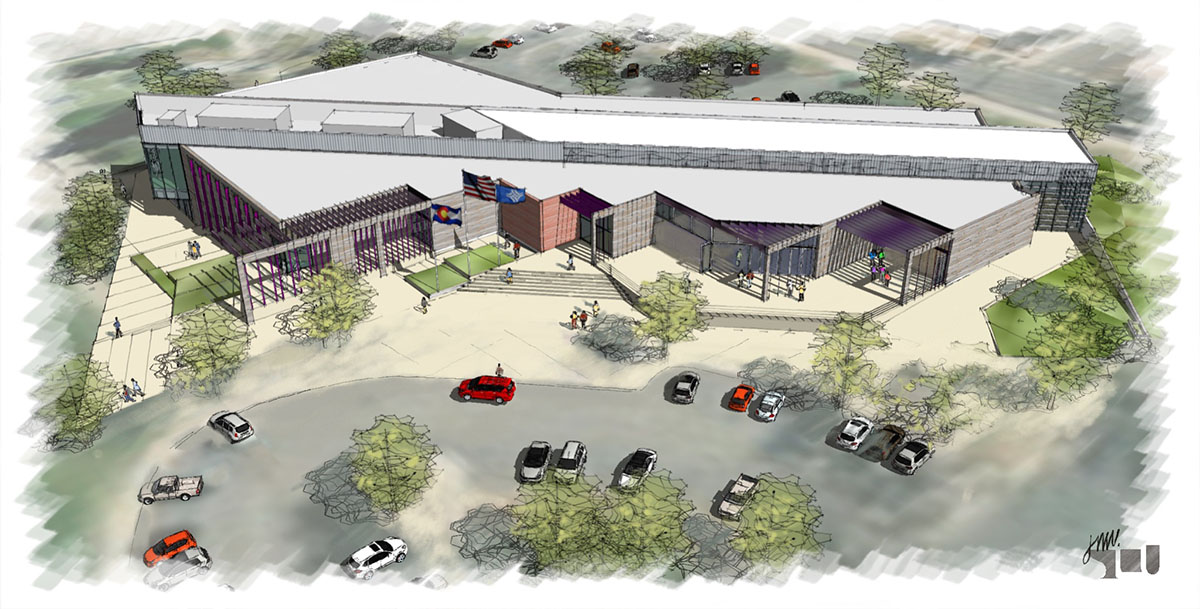 Filter content by studio:
The first community center in the City of Thornton was originally a co-located recreation center and public library. In 2023 the building is being replaced and the Thornton Community Center will be reborn as a modern version of its historic roots; a reunification of recreational activities with library programming. To ensure the building is welcoming to all Thornton residents, the building has been conceived as a cohesive and singular facility with dual operations. This dichotomy led to a unique architectural solution; a lenticular building form will showcase two distinct building tenants while simultaneously celebrating a cohesive coexistence in one contiguous building. An IGA between City of Thornton and Anythink Libraries co-governs the building.

The site presents several challenges that our design team used to achieve unique solutions to overarching project goals. For example, the grade drops nearly 2 stories from one corner of the site to the other. This natural topography was used to create a 2-story walk-out gymnasium coupled with an outdoor amphitheater. The upper level viewing platform overlooks the gym and terraces over the amphitheater stage below.

The building is organized around a clerestory spine which extends from the library end of the building through the rec center, framing views at both ends and flooding the interior with diffuse natural light. The library end of the spine contains a fireplace and intimate outdoor community garden while the rec center end of the spine contains exercise equipment overlooking views of the City of Thornton. This new intergenerational Center will encourage visitors to exercise both their bodies and their minds.
Initial project scope: renovation/expansion of existing community center
Revised project scope: remove and replace community center
Expanded project scope: co-located library and rec center
Final iteration: shift towards singular, cohesive building
Filter content by studio: